Surge protector for LED lighting system Class 1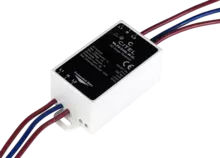 MLP2-230L-W-2L
Specially developed spd with combined protection for 2-phase power supply (control phase):
Many variants available depending on application
With screw terminals or cable wiring
IP65 versions
For protection class I or II application
Developed for Uoc: 10 kV and Imax: 10 kA for highest outdoor requirements according to IEEE & ANSI
Optical error signalling
---
The MLP range is a comprehensive series of AC surge protectors dedicated to LED lighting system. Some versions are equipped with an extra dataline surge protection (RS485 or DALI) in order to provide a full solution for LED systems with transmission features. By this way the MLP range is able to provide all the existing configurations with an efficient solution . MLP surge protectors are based on a powerful association of MOV and GDT components, able to protect LED system against huge surges without disconnection. In the worse case, the SPD will fail in safety condition. Indication of the SPD failure is performed through power supply cut off and/or through remote signaling feature.
---
Select another reference:
---
| | | |
| --- | --- | --- |
| SPD type | | 2+3 |
| IEC test classification | | II |
| AC system | | TT-TN |
| Nominal line voltage | Un | 230-277 Vac |
| Max. AC operating voltage | Uc | 305 Vac |
| Max. frequency | f max. | 10 MHz |
| Max. load current | IL | 2.5 A |
| Temporary Over Voltage (TOV) Charasteristics - 5 sec. | UT | 335 Vac withstand |
| Temporary Over Voltage (TOV) Charasteristics - 120 mn | UT | 440 Vac disconnection |
| Residual Current | Ipe | None |
| Follow current | If | None |
| Nominal discharge current | In | 5 kA |
| Max. discharge current | Imax | 10 kA |
| Total Maximum discharge current | Imax Total | 20 kA |
| Withstand on Combination waveform IEC 61643-11 | Uoc | 10 kV / 5 kA |
| Withstand on overvoltages IEEE C62.41.1 | | 10 kV / 10 kA |
| Protection level L/N | Up L/N | 1.5 kV |
| Protection level L/PE | Up L/PE | 1.5 kV |
| Admissible short-circuit current | Isccr | 10000 A |
| | | |
| --- | --- | --- |
| Mounting | | Wall or plate |
| Housing material | | Thermoplastic UL94 V-0 |
| Operating temperature | Tu | -40/+85°C |
| Dimensions | | See diagram |
| | | |
| --- | --- | --- |
| Standards compliance | | IEC 61643-11 / EN 61643-11 / UL1449 ed.4 |
| | | |
| --- | --- | --- |
| Thermal disconnector | | Internal |
| Installation ground fault breaker | | Type 'S' or delayed |